Cluas ri claisneachd
Listen out!
A social history recording project for parents and children... or for all ages
Thanks to all who took part in this! We appreciated your videos very much, all of them are now on our Youtube page.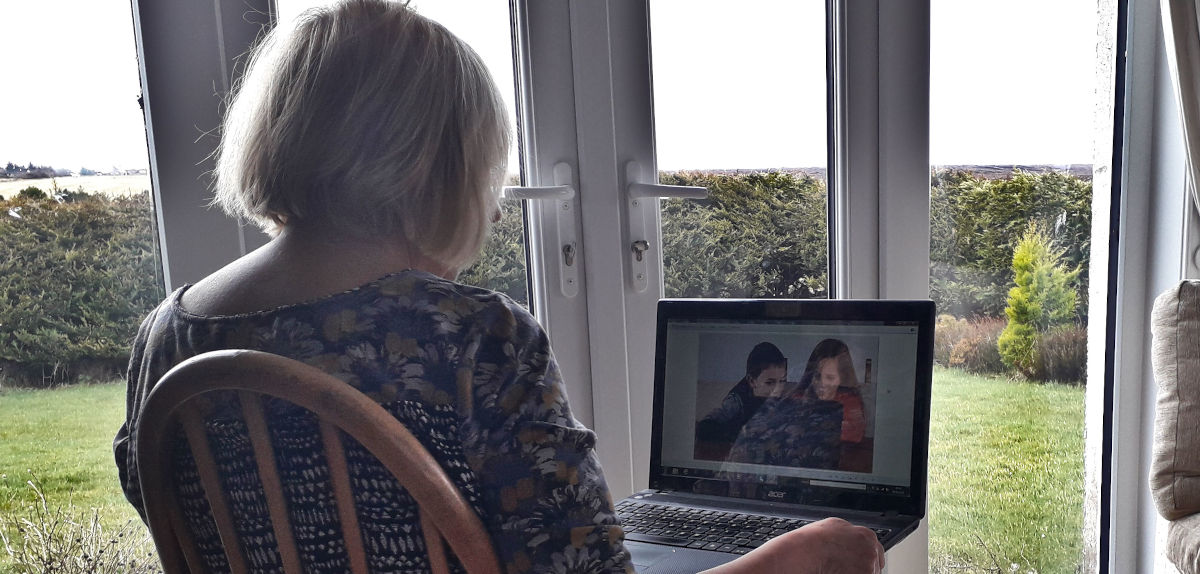 As we all keep saying to each other, these are strange times. The way we live our lives has changed utterly, and in just a few days.
With the closure of schools, and all of us encouraged to stay at home, it occurred to us that perhaps this was an opportunity for the younger members of our community (helped by their parents) to get involved with preserving the social history of all the villages in Sgìre a' Bhac.
On this page...
What do I do?
It's important to make clear that we are NOT advocating or encouraging people to go visiting at this time! But, given modern technology, collecting data from the comfort of our homes should present few problems. We've collected information on this page as to how you can go about it - please read it carefully.
Below are age-appropriate templates of suggested questions that you can ask your older relations or neighbours. You will record them talking to you, then send us the audio or video file online. We will ask you to complete an online permission form too, letting us keep the data on record for future generations.
for secondary ? for upper primary ? for lower primary ? ceistean sa Ghàidhlig ?
Once you have your interview file (either audio or video -- see below for how to do this) then go to our upload page and send us the video online.
How will this work?
There are several different ways you can record your interview. Which way you do it will depend on how familiar your interviewee is with video conferencing.
Telephone + Recorder
This is the easiest way, but will not have the same quality as a video interview. All you need is a phone with a loudspeaker function (landline or mobile), and any smartphone. Call your interviewee with the loudspeaker-enabled phone and use the other smartphone to record the audio. On iPhones, the app to do this is called Voice Memos, and comes built in. On Android phones you may have a built-in recording app too, but if not "ASR Voice Recorder" is a good free app.
Place the phone that is doing the recording near the loudspeaker of the other phone for best results. Once the interview is complete, transfer the audio from an iPhone to a computer either by sharing it via email or by transferring it to a computer with iTunes. On Android, the process is similar but will depend on which app you are using.
Skype
If your interviewee is on Skype, you can use its built-in recording function to capture a high-quality digital file of your interview. Once you start the call follow the instructions here: https://support.skype.com/en/faq/FA12395/how-do-i-record-my-skype-calls.
Zoom
If your interviewee is on Zoom, you can record your call with it too, providing you are calling from a laptop or pc. (Zoom recording with the free version of the program is not available from phones or tablets.) Full instructions on how to do this can be found here: https://support.zoom.us/hc/en-us/articles/201362473-Local-Recording.
Facetime and Hangouts
Unfortunately Apple's facetime technology does not allow you to record calls (or not easily at any rate). The free version of Google's Hangouts app does not support recordings either. (However, the Comann can set up and record Hangouts for you on request.)
Who should I talk to?
It's up to you -- grandparents, uncles, aunties, even your own parents will have their own story to tell. Or consider contacting your older neighbours, they may appreciate the chance to have a chat with someone!
If you can speak Gaelic then it would be great to use the Gaelic version of our form for the interview. But if not, it's just as valuable to gather the data in English.
Benefits
As well as collecting valuable data, we believe this project has other benefits. We are all cut off from each other just now, and all of us, old and young, are finding it hard and at times frightening. Anything that encourages us to talk to each other is to be welcomed. In addition, it is our hope this project will connect young and old, so perhaps bringing a more unified and integrated community out of the pandemic.
We hope to give out some special Comann Eachdraidh pens, pencils and badges as a partial thank you for your work!